The story so far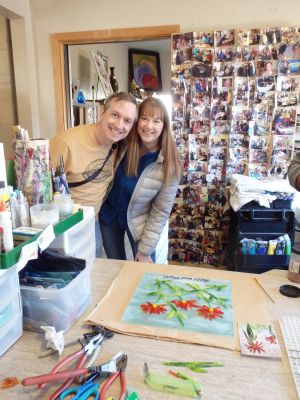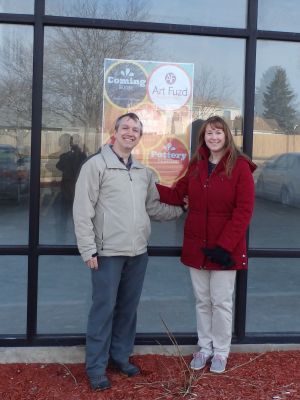 It took just one afternoon as complete newbies at a fused glass studio in Oregon and we were hooked on the craft, the process, and the joy of creating keepsake fused glass pieces to last a lifetime.
Being mostly self taught initially and after many a trial and error, we started finding a groove and aesthetic we were proud to show off to friends and family. People started showing interest and enquiring for purchase, so in late 2015 we decided to pause our years of corporate management and consulting lives and open Art Füzd ~ a social art studio "Where Fun And Art Fuze!" ~ for others to learn, enjoy, and get hooked, just like we were, to having fun insightful art experiences. Along with canvas painting and board art, there are hundreds of ceramic (i.e. bisque or pottery) pieces to choose from for walk-in guests to paint. Two and three hour group pottery painting and board art events, as well as canvas painting events are held here as well.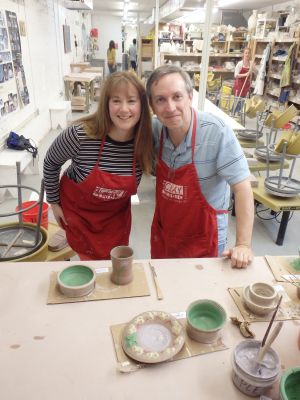 Hand made on the east coast originally, our fused glass original designs are now kiln fired in our Schaumburg, Illinois public studio. Conveniently located with ample parking, walk-ins are welcome and we can easily accommodate groups up to 60 people for parties and events.
Each piece of glass within each piece is hand cut, smoothed, and designed on the "glass canvas" using fusable glass COE90 and fired full fuse in one of our kilns. He's inclined towards geometric designs and wavy glass designs. She's inclined to mosaic glass designs and modern art expressions. We both enjoy working with brilliant colors while incorporating muted shades of the ROYGBIV colour wheel (i.e. Red, Orange, Yellow, Green, Blue, Indigo, Violet) at times to make brilliant colors spark. We both have a deep appreciation and fascination for textures that make something both beautiful to touch and to look at.
Inspired by natural elements like rock, salt, sand, smoke and lava, we hope to always be discovering and evolving new ideas and collections.
Review some options for custom-made fused glass gifts and decor at our Füsed Glassworks photo collage ~ please contact us to request a quote and our availability for custom or commission work.
Available ready-to-ship work is available within the Füsed Glassworks collection (coming soon!) here at Art Füzd.
See you soon!
Art Füzd | www.ArtFuzd.com | (800) ART-FUZD (278-3893)
Follow Art Füzd on
Facebook
,
Twitter
,
Instagram
"Where Fun and Art Fuze!"
Check out the Art Füzd
Studio Schedule
for scheduled events and holiday walk-in ideas.