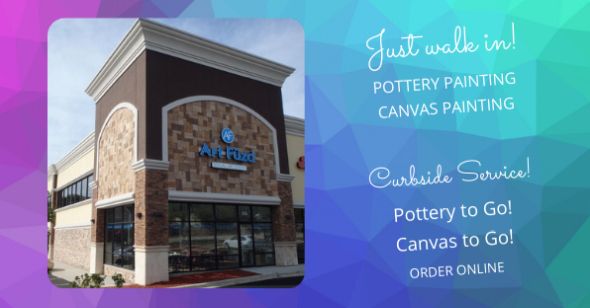 Welcome to Phase 4 at Art Füzd!

Hi Friends! The studio has been open since May 26, for Phase 3, for limited walk-ins along with curbside service for Pottery To Go. We're excited that Phase 4 starts Friday - this means expanded capacity for walk-ins! NO RESERVATIONS or appointments required or needed.

We have plenty of seating to provide supreme comfort and safety during your visit! Our "Pottery To Go!" is always available online to order or you can stop in to choose projects and paint colors to go. During the week, we are OPEN from Tuesday to Friday from 12 to 4 pm. On weekends, we are OPEN Saturday from 12 to 6 pm, and Sunday from 12 to 4 pm.

Tables have been removed and our new layout provides ample social distancing. Our studio is very open, airy, and spacious with very high ceilings and continuous air circulation, so please be assured that all guidelines have been and will continue to be followed. Hand sanitizer is available and we are frequently sanitizing high touch surfaces.

Please be advised that it's absolutely imperative that everyone wears their mask over their nose and mouth continuously while in our studio. We want all of you (and us too!) to stay healthy. Wearing a mask is key to keeping everyone healthy and it's the law. Please be advised that children must also wear a mask properly at all times. Parents must ensure their adherence. There are lots of creative mask designs out there, and we have a drawing twice a month for the best mask. Stop by to enter the drawing.

If you don't want to wear a mask while painting, we will gladly get you set up to paint at home with "Pottery To Go!". Many of our guests tried it and are continuing to do "Pottery To Go!" and some of them are highly likely to do so even after a vaccine is developed.

We hope that you and your families have been safe and healthy... We know that these times are unusual and challenging for many in various ways, and we hope that all of you are able to cherish extra time spent with loved ones and/or the time to rejuvinate one's mind and soul through quiet time.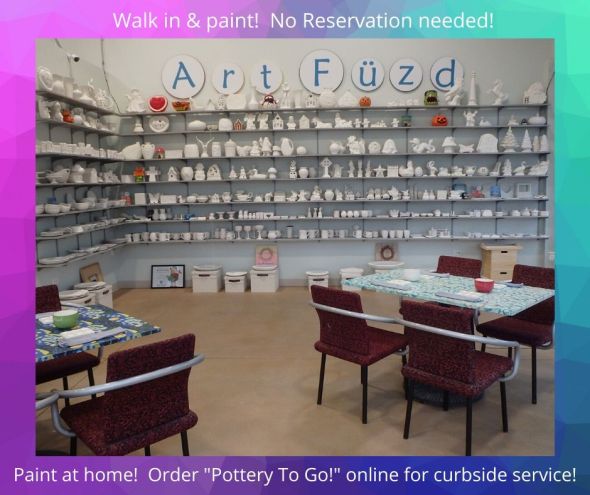 Just Walk In & Paint!

Join in on the fun! We have hundreds of different projects (and some unique/rare projects) to choose from - you can view projects online or stop in! There are over 100 different pottery glaze colors to choose from here, and we have lots of extra decorating tools for you to use and try out anytime... Pricing is reasonable and clearly marked.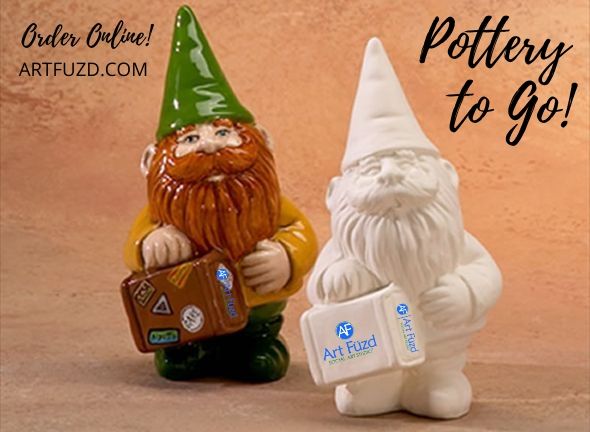 Pottery to Go Kits!

Order online! We have a wide selection at all levels. Choose "Pick Up" during checkout. You'll receive an email in 2 hours or less saying your order's ready. Simply drive up to our door. We'll be right with you! All we need to know is the full name on the order (i.e. anyone can pick up for you).

Also available and ideal for gift-giving are our gift certificates. They can used in studio or or Pottery to Go! (email us your order).
Have a Social Art Party!

We still have fun meeting and chatting with our guests! Social art parties, ladies nights out, girl scout celebrations, etc... We're happy to Zoom or Skype into your party when desired and give our how-to intro and answer questions! Order online Pottery to Go! for your guests and start the fun!

If you'd like to have a small (up to 8 or 10 people max.) in-studio party, please email or call to reserve the group table. Remember, everyone must wear a mask at all times over their mouth and nose.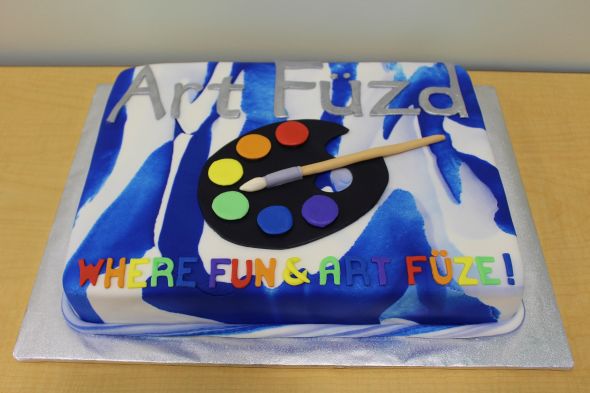 Art Füzd celebrates 4 Years on July 4!

It's been four (4) years already for Art Füzd! We are delighted to continue our journey serving our community and continuing to get to know all of you and continuing to meet new people along the way! It's been such a joy to build Art Füzd with fun and relaxation in mind for us and for you...

Just for the month of July, all "Pottery To Go!" online orders over $60 are eligible for one (1) complementary flat holiday ornament to paint! Just review this "ornaments" selection online and let us know which one you prefer in the comments box during online checkout.

A special thank you goes out to all that have continually supported our studio, brightened our days with your smiles, and made the long days go super duper quick! We believe we have the nicest/coolest guests ever!

For Independence Day, we have some patriotic-themed projects to decorate!


Pottery to Go!

Paint at home!
Lots of choices.
Fun for all ages.
Learn more...



Gift Giving!

Buy online or by phone,
help your loved ones
make forever memories.
Learn more...



Wall Decor!

Personalized
Custom made!
High quality.
Learn more...