Canvas Painting
WHAT IS CANVAS PAINTING?    |    THE CREATIVE PROCESS    |    FAQ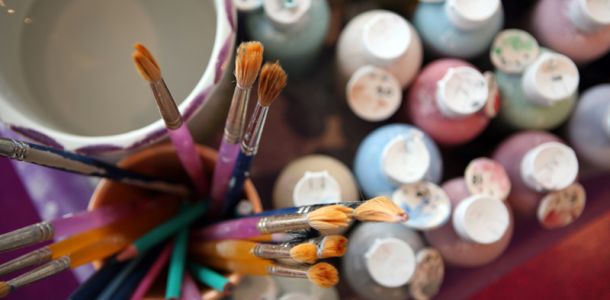 Paint Your Masterpiece!

What's "Canvas Painting?" Painting with acrylics, oils, pastels, or watercolors on canvas is an art experience decades old.

While most commonly known as a party-oriented "paint and sip" event for exploring your artistic side in a relaxed supportive environment, canvas painting is also a fun solo art experience. Friends can also do different pieces at their own pace. Select from our Gallery of Canvas Designs or opt to "free-style" your own design.

At our studio and for many of our events off-site, we specialize in designing canvas painting projects ideally suited for couples, two friends or teams of two, and office team parties.

It's always about having FUN and connecting with others ~ not about becoming an accomplished "artist" per se.


Reservations Required
For canvas painting, reservations are required as canvas painting seating is not always available. Also, there must be at least two hours left before closing time to start a canvas.

Simply call us at (800) ART FUZD or send a text to (724) ART-FUZD indicating the desired time, the number of artists. We'll reply to confirm.

Canvas artists should be 10 years of age or older.

We have lots of canvas project guides and example paintings throughout our studio to provide inspiration. We have both traditional and modern style canvas designs. You can select from our Gallery of Canvas Designs or opt to "free-style" your own design.

Pricing is all-inclusive and is based upon two sizes ~ small versus large canvas.


Social Art Experiences

If you prefer a more social art experience, we regularly hold open canvas painting (i.e. Canvas Nite).

Would you like to have a canvas painting birthday party or other type of party? Adult Parties | Child Parties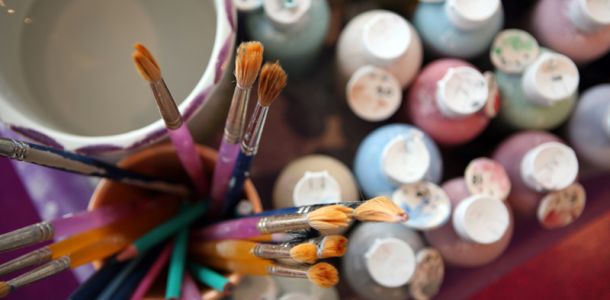 Create & Design
We are here to help as much or as little as you need or desire.
What's Included:
Talented Art Instructors, guiding you through step-by-step
Your Canvas and All Necessary Art Supplies
Smocks and Linens
Disposable Gloves
Complementary Packaged Beverages and Packaged Snacks at Studio Events
Happy Hour Pricing on Food and Drinks before Mobile Events
Memorable Results
Go home today with your new canvas painting! Gift it to someone special or decorate your home or office with your cool topic-worthy art!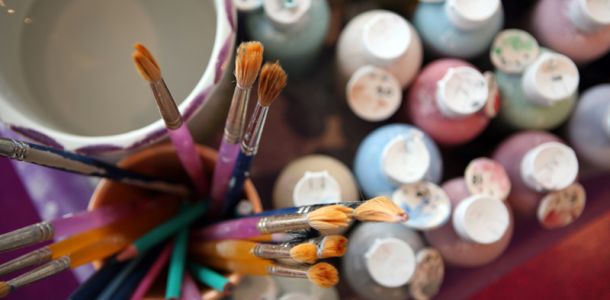 FAQ
Q: Do you have food, snacks, beverages?
A: For your convenience, we have water, juice boxes, and cans of soda for sale. However, feel free to bring your own beverage as you'd like.  Please, no food or snacks.
Q: Will acrylic paint stain my clothing?
A: Yes, absolutely! For canvas painting, all the acrylic paints we carry will stain your clothes. We offer artist smocks that you can (i.e. you should!) wear to help protect your clothes. Please keep in mind that even with smocks, there will likely be some exposed areas of your clothing so we advise not wearing your best clothes, favorite clothes, or clothes that can't be replaced when doing canvas painting or board painting.
Q: What to wear or not wear?
A: The materials we use are non-toxic but are staining to clothing. Please keep in mind that while it's entirely possible not to have any paint drips or spills (most people don't have any issues), it would be best to wear clothing that can be easily replaced. We provide fabric smocks for your use and give you disposable gloves to protect your hands.
Q: How long will it take to paint a canvas as a walk-in?
A: That depends entirely on you and the design you selected or the ideas you are working off of. There must be be at least two hours left before closing time to start a canvas.
Q: When can I take my canvas masterpiece home?
A: Your canvas will be thoroughly dry to take home with you!

WHAT IS CANVAS PAINTING?
   |   
THE CREATIVE PROCESS
   |   
FAQ