Child Private Parties
HOW IT WORKS
   |   
CHILD PARTY PACKAGES
   |   
PARTY REQUEST!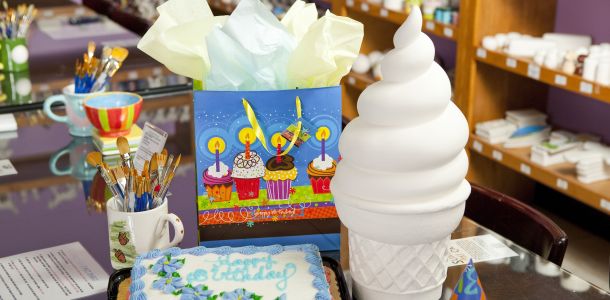 "Welcome to My Creative Art Party!"
Let our dedicated studio team plan your child's parties and party events! From birthday parties and celebrations to kid/teen get-togethers... For parties large and small. We've hosted lots of parties with very happy little studio guests! Choose Tuesday or Wednesday to have the studio to yourself for his/her creative art party or select from other days to reserve the party space for his/her party.
For parties up to 75 people, we'd be delighted to host at our 1700 square foot art studio. For large parties, we're also happy to bring the party to your office or other public venue.
For a pottery painting party, if you'd rather have all the children select whatever item they wish or if it's going to be a self-pay party, just let us know in the comments box on the form.
The Experience
We specialize in creating the ultimate social art party experience. Our studio design and layout has been optimized to provide the maximum level of comfort and creative vibe.
It's an Art Party!
For pottery painting child parties, your child and his/her guests will get to choose from a large array of pottery piece(s).
For clay hand-building child parties, we'll recommend an age-appropriate fun project for your party.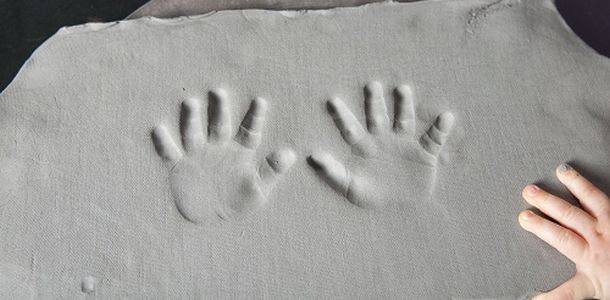 Stress-Free Planning
Our team has planned lots of parties all over the country. Expect all the party guests to have fun! Your only job is to send out the invitations and bring any snacks and refreshments desired. Moms and dads consistently say "That was so easy!".
How It Works
You're responsible for bringing any food, snacks and refreshments, etc. desired for the party or event. As a convenience, we have water and soda pop available for sale.
Use of our kitchen area (it's basic in nature) is available. We have plates, napkins, cups, forks, a cake knife, cake server, lighter, and candles if you need them.
A table is available for gifts or any other purpose you wish. Another table is available for food, refreshments, etc.
We have a "Happy Birthday" or "Bridal Shower" banner and party-type appropriate cups, plates, napkins.
What's the process?
A non-refundable Party Booking Fee of $25.00 is required to reserve the date, time, and location.
The Takeaway
With a unique hand-made treasure as a momento of his/her friend's party, your child and his/her guests benefit in numerous ways ~ creativity ~ socialization ~ life-long memories ~ decorative or functional artwork.
Let's get planning!
Review our Child Party Packages.
Start the discussion ~ tell us about your needs: Child Party Request

How to Book a Child Party
Due to the holidays approaching, we no longer provide any courtesy holds on times and dates for child parties. It's strictly first-come, first-served. If you need or want a particular date or time and we have told you that it's available, it's up to you to follow-through promptly and complete the three steps below. Additionally, phone calls requesting general information about child parties will be re-directed to this page, where there is far more info that we can relay verbally. Thank you in advance for your understanding.
PLEASE NOTE: The following three conditions must be met - before sending out any invitations to have a party at our studio.
1. Have you completed the online party information form here? Please don't call our studio until you've filled out this form for us. We need to understand your party needs first.
Child Private Party Request
2. Have you paid the 25 dollar party booking fee? This is non-refundable except in instances in which there isn't mutually agreeable time slot for your party. Not all days or times are available for child parties. Scheduling is at our sole discretion.
Party Booking Fee
3. Have you received an email confirmation from Art Fuzd in which we've confirmed that the day and time requested is confirmed? Is your party posted on our Party Space Calendar? If so, the party is 100% booked and you can send out invitations. You should have received some party planning URLs in your confirmation email.
4. If both of the times and/or days that you requested on your form are not feasible, instead of an email confirmation you would have received an email detailing scheduling options that are available for your party. Until you've paid the party booking fee and you've then received the email confirmation and party planning URLs, you have not booked the party. Please do not send out invites if #1, #2, and #3 are not all met.
Side Note: Our apologies if this section is off-putting to some of you. We've had a few instances recently in which people called, we talked with them, they were going to talk it over or think about it, and they call back weeks later saying "but I talked to you!" or "what do you mean, someone else (after 2 weeks!) took MY party slot!?" If the first three items above aren't met, you don't have a party booked.
How It Works
You're responsible for bringing any cake and refreshments, etc. desired for the party. If you'd like, we have juice boxes, soda cans, and bottles of water available for sale.
Use of our kitchen area (it's basic in nature) for your cake and/or refreshments (you provide) is available. We have a cake knife, cake server, lighter, and candles if you need them.
A table will be set up and available for gifts. Another table is available for your cake and/or other food/refreshments.
We include a "Happy Birthday" or other party themed banner and party-type appropriate cups, plates, napkins. After you've booked your party, we'll send you the URL link to select the design for your party.
As for child party invitations, after you've booked your party, we'll send you the URL link to the invitations page. There, you can download the images for use in email or the PDF file for use in double-sided printing.
Scheduling for child parties is limited. Book your party far enough in advance to get the day you want or need! If you need a last-minute party, give us a call ~ we're happy to help if the schedule allows...
Party Packages for Kids
All parties for children are 1.5 hours in duration. The first hour of the party is the "Art Party" part. The last thirty minutes of the party is the "Birthday Celebration" part, with 15 minutes for cake and 15 minutes for gift opening. Another option is to use the 1.5 hours for the "Art Party" and then everyone walks down to the pizzeria restaurant or the ice cream shoppe for the eating and/or dessert part(s).
The party ends promptly at the 1.5 hour mark with all guests leaving the studio so we can clean the space. Please encourage your child's guests to arrive on time so they have maximum time having fun together.
Pottery Painting Party



20 per person plus tax (includes pottery).

Having a general party, each painter selects one pottery item from our party selection of 20+ pieces (at our discretion, based upon current inventory).

Or consider having a themed party: "Motor Madness", "Happy Animals", "Fancy Figures", or "Ice Cream Bowls". Stop by to learn more about the pricing, etc.

Or consider a budget-based party: Any amount over 20 per person plus tax and your guests simply select from our vast selection of paint your own pottery.

Pottery pieces are ready for pick up one week (i.e. 7 days) later, unless another time-line is discussed in advance.
To hold your party time/day there is a Party Booking Fee (25.00). After you submit the form, you may stop in, call us, or complete the process on-line.

HOW IT WORKS
   |   
CHILD PARTY PACKAGES
   |   
PARTY REQUEST!