How It Works
HOW DOES IT WORK AS A WALK-IN?
   |   
WHAT ARE THE WALK-IN COSTS?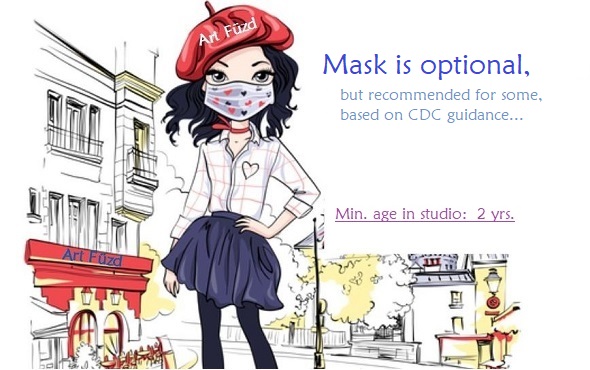 How does it work as a walk-in?
Q: Do I need an appointment or reservation?
A: Not at all! Walk-ins are welcome when the studio's open to do pottery painting. If it's going to be a larger family or larger group, please call ahead so we can have tables ready for you. For canvas painting, reservations are required as canvas painting seating is not always available. Also, there must be at least two hours left before closing time to start a canvas.
Q: Do I need to wear a mask while painting?
A: Fully Vaccinated? Mask is Optional.  But recommended, based on CDC guidelines and basic common sense. Keep in mind that our studio is an enclosed space that serves a lot of people during busy times and everyone is in here for hours. Not everyone feels they have a responsibility to try to protect others when they are sick.
If you're immuno-compromised but fully vaccinated we recommend that you consider "Pottery To Go!" or be sure to wear a high quality mask while here. "Pottery To Go!" is always a great choice for anyone who prefers to paint at home.

Seating is first come, first served, and we have a large spacious studio. For a more relaxing visit consider the day before or after a holiday or sometime during the week.
Q: Is there a minimum age recommended?
A:  Yes!  The required minimum age to be in our studio is TWO (2) years old.  No strollers of any size permitted. 
Q: Is there a play area just for kids?
A:  No!  This is an art studio, not a child care facility.  To ensure the comfort of other guests who are visiting to relax and focus or visit with friends and family, all children must be able to remain in their seats or on your lap (please note minimum age requirement of 2 years old, see above) during their visit and also must be able to refrain from screaming out, yelling, etc. We don't allow any running in the studio. We reserve the right to ask you to return and finish another day if necessary.
Q: Can I drop off my young kids?
A:  No!  Believe it or not, we've had people actually want to leave young kids while they go off to work!  No joke, it's true... We don't provide babysitting services!  We won't allow ourselves to be in a position of either real nor perceived responsibility for your kids. You had them, you must ensure their well-being.
Q: Can older kids paint while I go run errands?
A:  Yes!  This is quite common, actually, and works out very nicely for older kids with their friends or brothers and sisters, for example.
Q: What is the price range?
A: For pottery painting, everything is clearly marked (starts under $10) and it's all-inclusive plus tax (includes the paint, use of design tools, as much help as you need/want, and the kiln firing). For canvas painting, it's per canvas and we have two sizes, a small canvas size (12 x 12) and a large canvas size (16 x 20). Opt to free-flow your own canvas design or choose between numerous design guides that we have available.

Q: Do you have food, snacks, beverages?
A: You may bring in beverages but not any food or snacks. We typically try to have water, sodas, and coffee/tea/cocoa available for sale, for your convenience...

Q: Will ceramic glaze stain my clothing?
A: Not at all! All of our ceramic glazes easily wash out with water and certainly with a little bit of soap if desired. Our walk-in area's full of fabric chairs so we know how fabulous ceramic glaze is! We do have artist smocks in both kids sizes and adult sizes that you are welcome to use if you wish. Lots of our guests enjoy wearing smocks while in their creative zone!

Q: Will acrylic paint stain my clothing?
A: Yes, absolutely! All the acrylic paints we carry will stain your clothes. We offer artist smocks that you can (i.e. you should!) wear to help protect your clothes. Please keep in mind that even with smocks, there will likely be some exposed areas of your clothing so we advise not wearing your best clothes, favorite clothes, or clothes that can't be replaced when doing canvas painting or board painting.

Q: Do I pay today or when I pick up?
A: You'll always "have fun first!" at Art Füzd ~ "Where Fun and Art Füze!" And everyone settles up afterwards that day and then the pick-up process a week later is super simple and seamless.

Q: When can I pick up my pottery projects?
A: For pottery painting, your pieces will always be ready for pick-up in one week (i.e. seven days). If you'll need it sooner because it's a gift or you're in travel, you must discuss pick-up timing with us before starting your projects so we can advise and agree on a revised "promise date".  Asking us at checkout isn't a good idea.  It depends on your project but occasionally it may be possible to shorten the time slightly but not drastically.  Most of the time it's still going to be the 7-day turn-around - because we are busy and running the kilns to process everyone's projects. Your receipt clearly specifies when your pottery will be ready for pickup!

Q: What if I can't pick up in a while?
A: Unless we have mutually agreed otherwise at the time of purchase, projects MUST BE PICKED UP WITHIN THIRTY (30) DAYS. We are not responsible for projects not picked up within thirty (30) days. In other words, we're happy to hold your projects for you for up to thirty (30) days. The date when your projects will be ready for pick up is clearly written on all receipts. Our studio is usually closed on Mondays, Tuesdays, and Wednesdays. If you'd prefer not picking up your projects or you need something shipped, we offer a convenient shipping service for fifteen dollars a piece. You can purchase this service online, by phone, or at the studio.

Q: Does everyone work on an art project?
A: Not at all! Sometimes someone comes with a friend and is just curious or wants to watch their child or a friend create art, or is part of a family that's creating art. We ask that the number of people that aren't creating art be minimized when seating is limited so other guests can be seated, limiting wait times.

Q: How long does it take to get my finished artwork?
A: A lot of care and time happens for your bisque pieces after you've created them! Let's say you've painted a beautiful princess figurine, okay? She's relaxing out on the drying rack at least 24 hours. Then, she's goes for a quick swim in the glaze! After she's been a chillin' for another 24 hours, she's got some hard work to do! She steps up carefully onto her very own kiln stilts and maintains her balance throughout her 24 hours in the ceramic kiln. This is when she gets super hot in temperature and her skin becomes super shiny and durable! And her color changes from being really pasty to very colorful! She's really happy when she gets to come out of the cool dark kiln and into the natural sunlight of lots of admiring fans... She's not done yet! She models for us for a few days on her shelf or until you pick her up and take her home. So, it takes a minimum of 3 full days for your pieces but they're put into the queue and we have 2 large kilns. Sometimes we can "expedite" your artwork, to be ready in 4 days or so. If that's really needed/desired, ask us what the current queue looks like...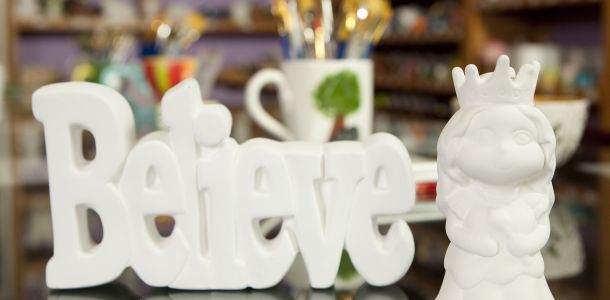 What are the walk-in costs?
Q: Do you have "Sitting Fees"?
A: Not at all! Some studios do, while other studios don't ~ and it's largely just a preference! We "keep things simple" when it seems to make the most sense, and for us personally, sitting fees add unnecessary complexity for us and potential confusion to our guests. At Art Füzd, everything is clearly marked. And, that number covers your bisque piece, all materials you use, and the dipping and the firing in our kiln. The firing process takes about a week, literally, so that is why it's not a next day turnaround.
Q: Are you "All-Inclusive"? What does that mean exactly?
A: Yes, absolutely! As mentioned above, all the materials (glazes, paints, use of design and decorative tools or equipment) and supplies are included in the single amount for your project. We don't charge extra to use our specialty glazes, etc.  Use whatever you wish and have fun - it's all included!  Also, the additional work of the staff of Art Füzd glazing and firing your piece and storage of your finished artwork for up to 30 days is included.

HOW DOES IT WORK AS A WALK-IN?
   |   
WHAT ARE THE WALK-IN COSTS?