How It Works
HOW DOES IT WORK FOR PARTIES?
   |   
HOW DOES PAYMENT AND PICK-UP WORK?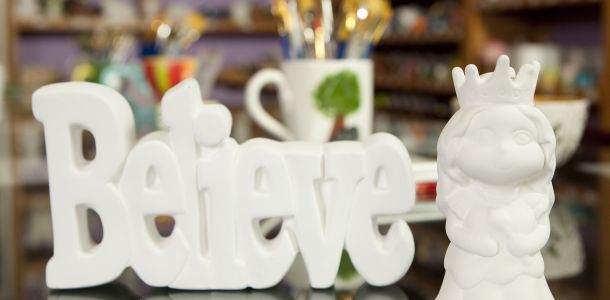 I'd like to have a party! How does it work?
Q: Do I need to book my party?
A: Yes, if you would like to bring food or cake, decorate, or have a celebration component to your party or event, please call us or book your party or event on-line. Please visit the specific page to
Book an Adult Party
,
Book a Child Party
,
Book a Corporate Event
, or
Hold a Fundraiser
.
Q: How do parties at Art Füzd work?
A: For parties, please visit the specific pages for
Pottery Painting
and
Canvas Painting
.
Q: Does a larger group of people wanting to "just paint pottery" need to book a party?
A: Walk-ins of any size group are welcome when the studio's open to do pottery painting. If it's going to be a larger family or larger group, please call ahead so we can have tables ready for you. For canvas painting, please call at least an hour in advance to reserve tables (we'll have everything already set up for you).
Q: Do you have food, snacks, beverages?
A: For your convenience, we have water, juice boxes, and cans of soda for sale. For child parties, we do the "Art Party" portion first at our studio. For adult parties, please keep in mind that oily or greasy foods are not recommended while painting pottery as it can effect the adherence of the glaze to ceramics.
Q: Will ceramic glaze for pottery painting stain my clothing?
A: Not at all! All of our ceramic glazes easily wash out with water and certainly with a little bit of soap if desired. We do have artist smocks in both kids sizes and adult sizes that you and your guests are welcome to use if desired. Lots of our party guests enjoy wearing smocks while in their creative zone!
Q: Will acrylic paint for canvas painting stain my clothing?
A: Yes, absolutely! All the acrylic paints we carry will stain clothes. We offer artist smocks that you and your guests can (i.e. you should!) wear to help protect clothes. Please keep in mind that even with smocks, there will likely be some exposed areas of clothing so we advise not wearing to the party one's best clothes, favorite clothes, or clothes that can't be replaced when doing canvas painting or board painting.
Q: Can parents stay with their kids?
A: For young child parties, parents are welcome to stay for the party. That's not a problem, as we have a spacious and comfortable studio. In many cases, parents prefer to sit and talk and/or paint pottery too! The front area of our studio is ideal for this during child parties.
Q: Can non-painters hang out during an adult party?
Generally speaking, yes. We just ask that the number of people that aren't creating art be minimized so other guests can be seated, limiting wait times. In other words, we reserve the right to ask non-painters to allow waiting painters to sit instead if the studio is at full capacity.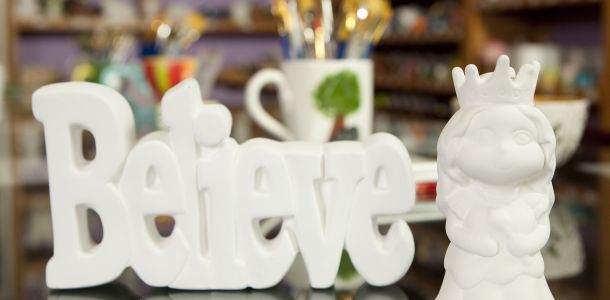 What's the payment and pick-up process for parties?
Q: Do I pay today or when I pick up?
A: You'll always "have fun first!" at Art Füzd ~ "Where Fun and Art Füze!" And everyone settles up afterwards that day and then the pick-up process a week later is super simple and seamless. For child parties, typically the host or host parent covers all the costs. For adult private parties and company outings, typically the host pays or everyone self pays.
Q: When can I pick up the party pottery projects?
A: For pottery painting, all the party pieces will always be ready for pick-up in one week (i.e. seven days). If you'll need some or all of the pottery sooner, please discuss this with us before you book your party so we can advise and agree on a revised "promise date". It depends on the party type and how many people but generally speaking it's possible to shorten the time somewhat but not drastically. For either child or adult parties, the host can pick up all the pieces, pick up some of the pieces, or have all the guests pick up their pieces individually.
Q: What if I can't or the party goers can't pick up in a while?
A: Unless we have mutually agreed otherwise at the time of purchase, party projects MUST BE PICKED UP WITHIN THIRTY (30) DAYS. We are not responsible for party projects not picked up within thirty (30) days. In other words, we're happy to hold your party projects for you for up to thirty (30) days. The date when your party projects will be ready for pick up is clearly written on your receipt. It's the party host's responsibility to pick up all party projects or to inform all party goers to pick up within thirty (30) days. Our studio is closed on Tuesdays and Wednesdays. If you or any party goers prefer not picking up party projects or need some shipped, we offer a convenient shipping service for ten dollars a piece. You can purchase this service online, by phone, or at the studio.

Check out our
Adult Parties
or
Child Parties
page for more information.
HOW DOES IT WORK FOR PARTIES?
   |   
HOW DOES PAYMENT AND PICK-UP WORK?