Private Parties
ADULT PARTIES
   |   
TEAM BUILDING PARTIES
   |   
CORPORATE PARTIES
   |   
GIRL SCOUTS
   |   
CHILD PARTIES
Everybody loves an Art Füzd party!
That's because we are Schaumburg's spacious loft-like studio with lots of natural light, over 500 pottery pieces to select from, and over 88 colors of glaze to create with!
Read about what others think about Art Füzd on our
Guest Reviews
page or by visiting our
Facebook page
or our
Yelp profile
. Our blog post about an award received:
Art Fuzd Schaumburg 2017 Yelp Award Recipient
From a group of hundreds with multiple sessions throughout the day to large groups up to 75 people to smaller group parties to mini group parties, we will provide you and your guests with premier service.
Tell us about your party or event ~ who's attending, the purpose, your goals or objectives ~ and we'll recommend fun options in terms of art medium and specific projects or pottery pieces that have worked out remarkably well for similar parties and events.
Art Fuzd, 1457 W. Schaumburg Rd., Schaumburg, Illinois 60194
Convenient to numerous surrounding towns and villages and located away from Woodfield Mall (we're 5 miles west) yet nearby to many shopping centers, restaurants, makes Art Fuzd in Schaumburg frequently the best choice for social art parties. We have parking directly in front of and to the side of our studio as well as a ramp directly in front ~ perfect for wheelchairs, walkers, and general safety for young kids. Just pull up to our door (literally) to drop off/pick up kids for parties and to pick up finished projects.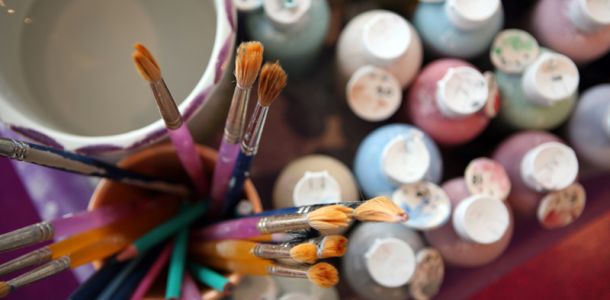 Adult Parties
Yes, all kinds of parties!
We've hosted all kinds of parties here at Art Fuzd!
Bachelorette parties
Bridal parties
Baby Shower parties
Adult Birthday parties
Family parties
Are you ready to PARTY!?
About Adult Parties
|
REQUEST A BOOKING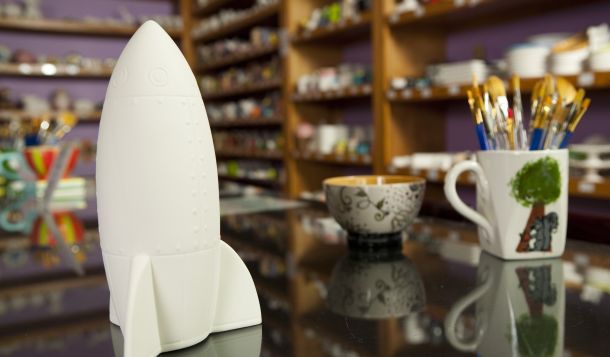 Team Building Parties
Bring your team here and celebrate your team's accomplishments, build comraterie, reward employees, or simply have a fun team outing at Art Fuzd. Choose from pottery painting, canvas painting, or board painting. Have everyone work on individual projects, a group project, or a combination of an individual project plus a group project. Lots of options abound.
Off-site team building and corporate parties are often possible during the work-week. Not all types of projects are conducive to being off-site, however, and many factors will impact our recommendations.
About Team Building & Corporate Parties
|
REQUEST A BOOKING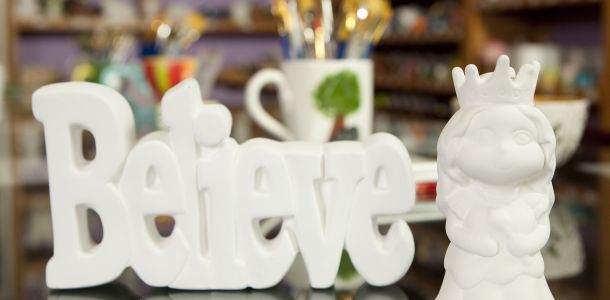 Girl Scouts
Our spacious modern party space hosts fun badge-earning events! We provide an Art Fuzd patch to each participant for all badge-earning events.
Art Fuzd is perfect for scout outings ~ a great place to spend cookie monies! For scout outings, choose from pottery painting or canvas painting (all participants 12 years old or older).
For more info and/or to request a booking for a badge-earning event or a scout outing, please visit the "Scouts" page and submit the form so we can best service your request/enquiry.
About Badge Events
|
About Scout Outings
|
REQUEST A BOOKING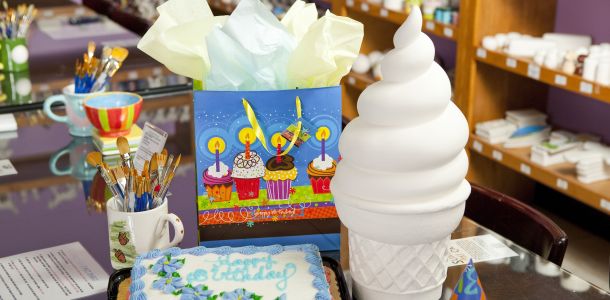 Child Parties
Periodically, we host special ticketed seat events, such as for art workshops, collaborative events with other businesses, etc.
All ticket-based events are by advance ticket purchase only, meaning no walk ins permitted and deadlines exist to get tickets.
Our special events are announced on Facebook or by email or by invitation only.
For more info and/or to request a booking for a child party, please visit the "Child Parties" page and submit the form as the first step so we can best service your request/enquiry.
About Child Parties
|
REQUEST A BOOKING

ADULT PARTIES
   |   
TEAM BUILDING PARTIES
   |   
CORPORATE PARTIES
   |   
GIRL SCOUTS
   |   
CHILD PARTIES